Jenny S. - a teacher that rocks
Posted by
toriem on 2006.07.15 at 00:53
I made this ami for my friend
lammygirl
and so she's totally based on her. The ami's name is Jenny S. She's a teacher by day and bass player by night.
There were several new things I learned making her. I'm happy with the way the bass guitar turned out because it was a little tricky with the different shapes. I also learned how to overlap the different yarns so that under the skirt is actually a body too. I learned a new hairstyle too! Although hair takes awhile to do I really enjoy doing them. It makes me feel like a hairstylist haha.
So... tada... here's Jenny!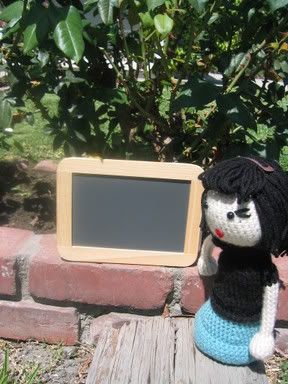 I was going to write in chalk on the blackboard, but I didn't have any at the time. Then I was going to do it by Photoshop, but our comp got reformatted and so I can't do that either. It was going to have something like "Today's Agenda" and Ms. S. on it and other various teacher stuff...perhaps a lesson on George Orwell's
Animal Farm
. Well, use your imagination!
And a little preview of my next ami I will post pictures of.