<3 Grand Opening of Ami Amour! <3
Posted by
toriem on 2006.08.05 at 07:03
Well, I thought my online store would never open, but the day has finally arrived. You can check out "Ami Amour" at
http://toriem.etsy.com
Browse around etsy too, they have lots of wonderful stuff there.
I've only listed 2 items so far, but it will grow! In the meanwhile, I think the 2 that I did list are pretty special.
Up first as I promised is the catwalking Captain Jack Sparrow!
Specs:
19 inches tall
-Has removeable bandanna, vest, and scarf belt
-Has a 'P' tatoo on his right arm hiding under a sleeve
-Each dreadlock has been individually made and placed
-Able to be posed in various ways

Let's take a look shall we?



It looks like Jack Sparrow is also taking a look...
Pirates are branded for life
Check out those spiffy boots for cat-walking
Captain Jack Sparrow doesn't like to be stabbed in the back
He wonders where his hat has gone...
In the end, you better be careful, lest he literally steals your heart away!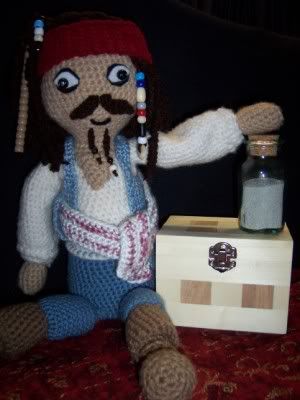 "I've got a jaaar of diiirt!"
http://www.etsy.com/view_item.php?listing_id=361700