Tori Ami
Posted by
toriem on 2006.07.02 at 12:53
Here is my Tori Amos amigurumi, otherwise known as Tori Ami. She took a while to make because I was working on her on and off, but I'm really satisfied the way she came out.
Height: 19 inces from head to foot. 12 inches, sitting up.
Outfit: from Sessions on West 54th. Altered to give her a dress and I also made it sleeveless.
Shoes: Black heels, because she wouldn't be Tori without fabulous shoes!
Mouth: She has two different mouths that can be attached by velcro. One cute looking heart mouth, and one for singing in her Tori demon mode.
Demon Tori. yessaid.
Cute Tori loving the piano. Notice her shoes!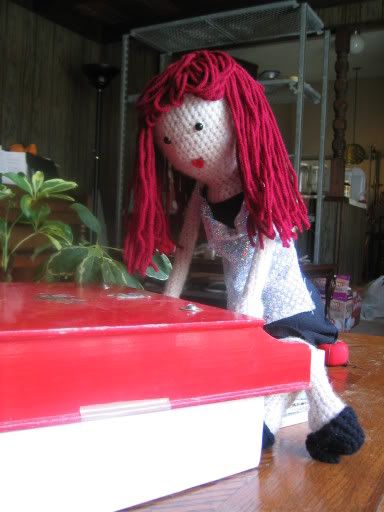 The famous straddle.